Bush Kindy
Nature Play At Suncoast Little Learners
Bush Kindy at Little Learners
At Little Learners, we believe childhood is precious and that an important part of childhood is being outside in nature. We know that children need more time outside in nature which is a concept supported by research. That's why we pioneered the concept of Bush Kindy.
What is Bush Kindy?
How Bush Kindy works
Children are natural learners and so this program provides children with the time and an ideal environment for them to learn in: 2-3 hours of uninterrupted play in the bush, using what nature has provided as learning materials.
Outdoor, nature play will be a special part of your child's total Kindergarten experience. They will have the opportunity to play in the rain, roll down grassy mounds, balance along fallen logs, get involved in dramatic play, find insects, draw with sticks in the ground, climb trees….
Each child's developmental progression, advancing skill levels and particular interests will be noted by their teachers. The teachers will use this knowledge to support the children's learning. Teachers will support children as they take the risks and face challenges essential to well-rounded learning. Stories will be told, knowledge will be shared, songs will be sung.
Through play, your children will connect with and respect this space. They will connect with their land in a way that cannot be done under a roof or within walls.
How does the program work?
Bush Kindy is run twice per week with the children escorted by our educator-carers to our onsite forest. The children are not cooped up in sterile, indoor daycare rooms. They can explore and have adventure  and can collect goodies from the forest for bush craft. There are opportunities to learn about the environment – animals, insects and to learn about bush safety and how to engage in nature play.
Is our Bush Kindy a sensory garden?
In a sense, Bush Kindy is a sensory garden; however it is much more! We are blessed with both open grasslands and forests – basically one giant sensory garden.  
Is forest school safe?
Since the Sunshine Coast can get quite warm, we only run the program cooler months. This nature play program is safely within the bounds of acceptable risk management, and teacher ratios mean that children are monitored at all times.
Where is it held?
It's just a short stroll (within our grounds) for the children as once they have filled their back packs and make their way through the College grounds and down to the forest.
We don't have to travel far because Suncoast Little Learners is located in the heart of Suncoast Christian College and its extensive outdoor areas, bush land and an area of remnant rainforest.
Additional cost?
Because we have a section of remnant Sunshine Coast rainforest right here on campus – there are no additional costs or special transport arrangements for your child to enjoy the benefits and joy of the great outdoors.
How it began
It grew out of our regular trips to the College Bush Chapel, where the children would have morning tea.  Almost by accident we came to realise how much the children loved the adventure, the bush, the mud and the insects. Now, Bush Kindy is the thing the children look forward to most at Little Learners.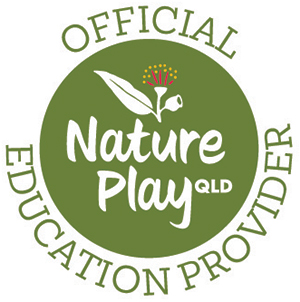 About Nature Play
Nature Play Queensland (Supported by the Queensland Government) states that "nature play promotes health benefits, including cognitive, social and emotional development, and it builds resilience and creativity as well. Experiences in nature as a child also leads to environmental awareness and stewardship later in life."
Source: www.natureplayqld.org.au
Forest school or bush kindy?
Our outdoor program is just like Forest School – where children are taught in outdoor environments. At Suncoast, we are blessed with abundant outdoor play and learning spaces, including both rainforests and meadows. The learning objective is to foster confidence, self-esteem and independence through curriculum-based outdoor play and exploration.
Join us for Bush Kindy
 Parents and children are welcome to experience Bush Kindy